Original Jolt Therapy Tool
The ORIGINAL Jolt Therapy Tool has now been discontinued, as the New Jolt Pro is much improved over the original.. AND can be purchased at only a few dollars more.
The new Jolt Pro is just as powerful as the original, is much quieter, has variable speeds with a battery life indicator and has 6 attachments for doing the job you need to do on those sore and aching muscles.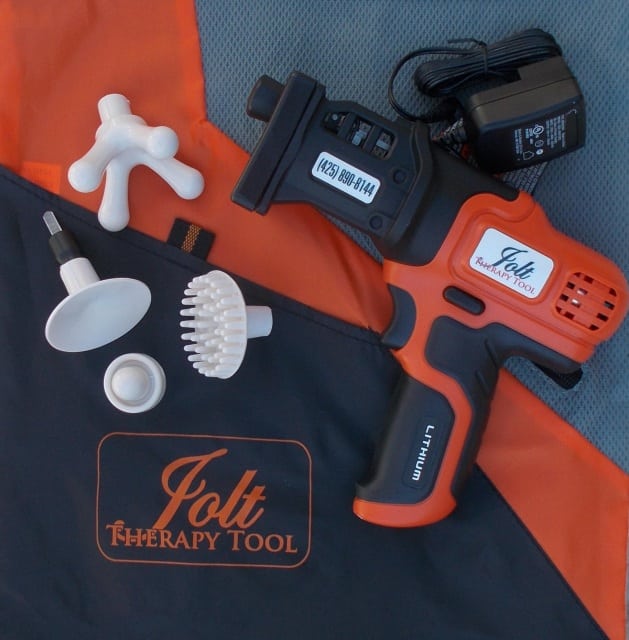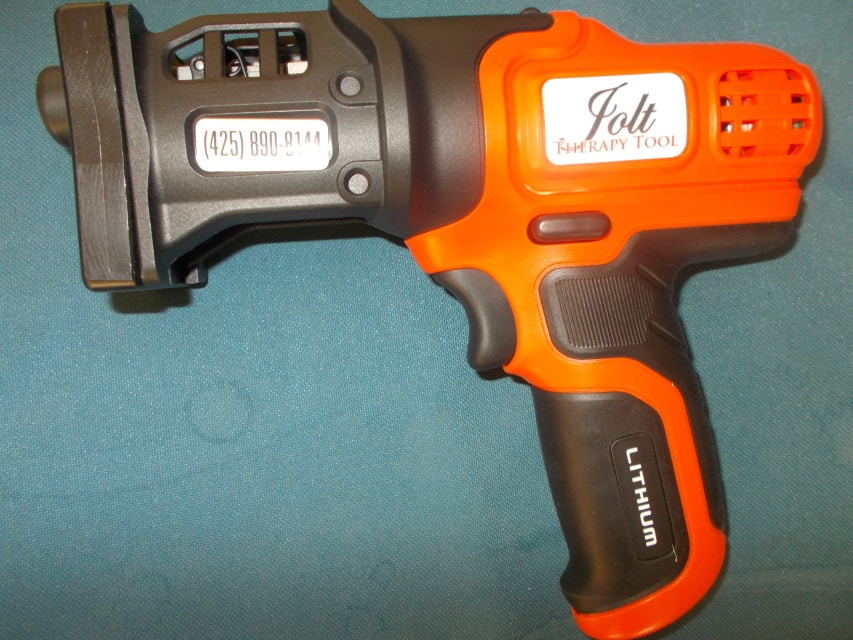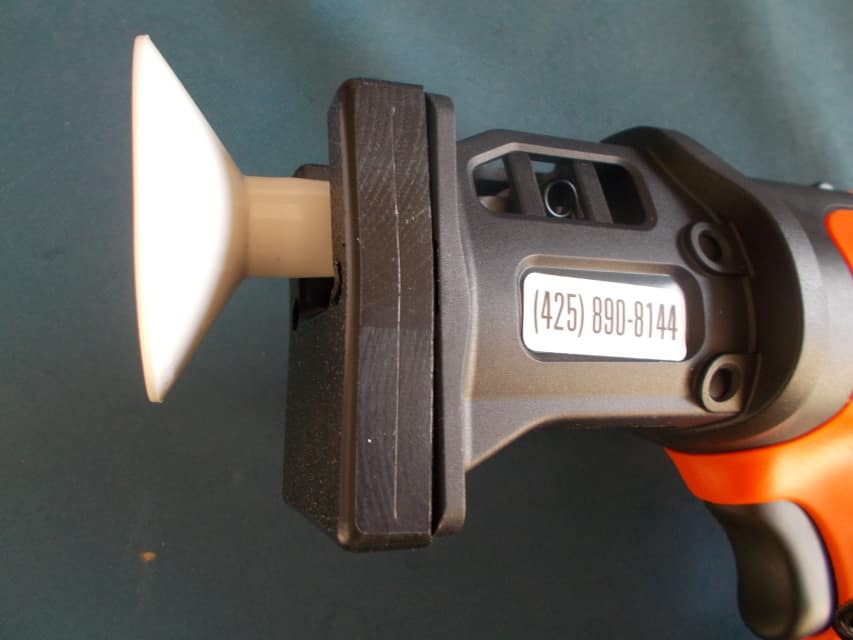 Jolt Therapy Tool-Handheld Personal Muscle Massage Gun, Deep Tissue Massager
The Original JOLTHandheld Personal Muscle Massage Gun, Deep Tissue Massager, Powerful Cordless Percussion Massage Gun, Portable Massage Device with 4 Massage Heads
The JOLT is a POWERFUL, PORTABLE & LOW PRICED* therapy tool that REALLY WORKS to RELIEVE & REVIVE YOUR Muscles! YES, it is NOISY, But you are using it at HOME now, so put it to work!
​*Special Inventory Blowout Price of only $99.00 plus shipping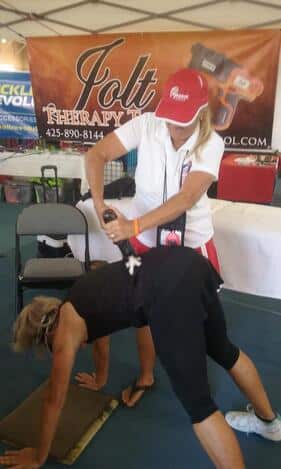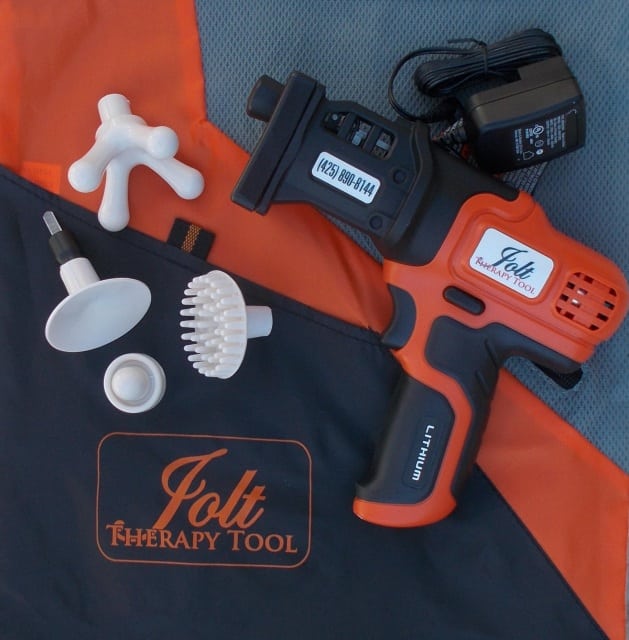 Jolt Therapy Tool-Handheld Personal Muscle Massage Gun, Deep Tissue Massager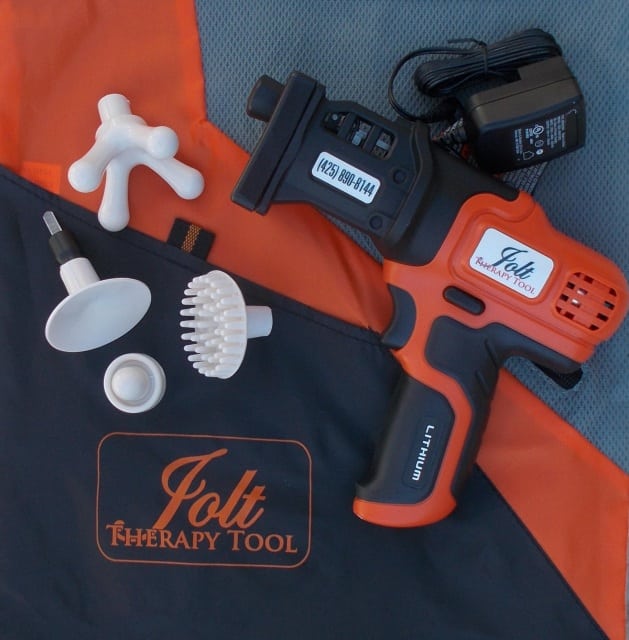 According to Alex Guerrero, owner of TB12 & New England Patriot's Tom Brady's personal trainer, "Pliable muscles are resistant to injury, tight dense muscles are prone to it"...so getting our muscles loose and pliable are the key to injury prevention and recovery!
You may enjoy having an Active Lifestyle (even if you are doing it alone at Home!), but after your weight lifting workout, Biking, playing Pickleball, Tennis or Softball, running a Marathon or any other strenuous activity, your body is telling you it needs some help to recover.
The JOLT Therapy Tool is the perfect remedy to get you ready to get "back in the game"... at least when the GAMES Resume!
Also, if you have had Body Sculpting or a Cryolipolysis Procedure, post treatment Manual Massage (using the Jolt!) has been shown in clinical studies to help in fat reduction!
The JOLT is lightweight and portable, so you can take it with you to where ever you need it... the gym, the courts, on a hike or after a long bike ride....The JOLT is a great companion for any workout...
SOFTBALL PLAYERS LOVE THE JOLT!! Click on the Softball Players Page for more information!
PICKLEBALL PLAYERS LOVE THE JOLT!! Click on the Pickleball Pros page to see who is using it!
Do you or someone you know suffer from Migraines? Watch the video below to hear how the JOLT helped Carol get relief from her MIGRAINES.... Check out the video from Pickleball Pro Dee Davison to hear how her HIKING group used the Jolt after hiking the Grand Canyon!
The JOLT is a Unique Therapy Tool that keeps on giving to BOTH You and Your Partner! Use it on yourself to alleviate YOUR aches and pains and Share it with your Partner to help them too!
Laura Fenton Kovanda, sports Physiologist & Professional Athlete shares WHY you need the Jolt to heal your aches and pains!
The Jolt Therapy Tool is like a having your own Personal Massage Therapist in your hand! It is light weight (1.5 lbs), portable and is powered by a easily rechargeable Lithium Battery. If you have ever been in need of an easy way to "Jolt Away your aches and Pains" this tool is the right one for you!
And the Jolt Package includes the Large Tip, the small tip and the 4 soft ATTACHMENTS FOR EXTRA SPECIAL THERAPY!
Get Your JOLT today for a Reduced Price of only $99 plus shipping. ​Click on the Buy Now Button below!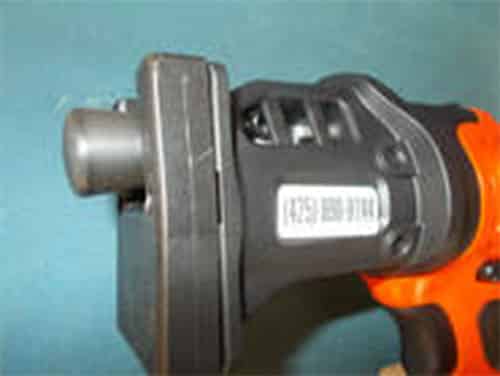 The Jolt includes the Big Tip, or "pounder" for getting deep into tight muscles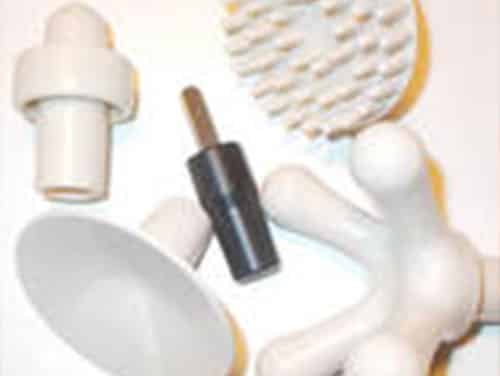 The small tip replaces the Big one, and fits the 4 attachments: the "Bullet" , "Cup", "Brush" and "4 Finger Flex"...discover your favorite!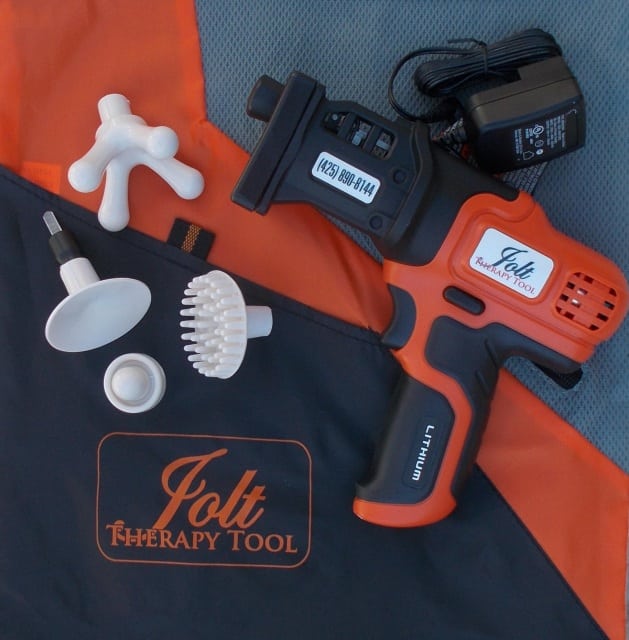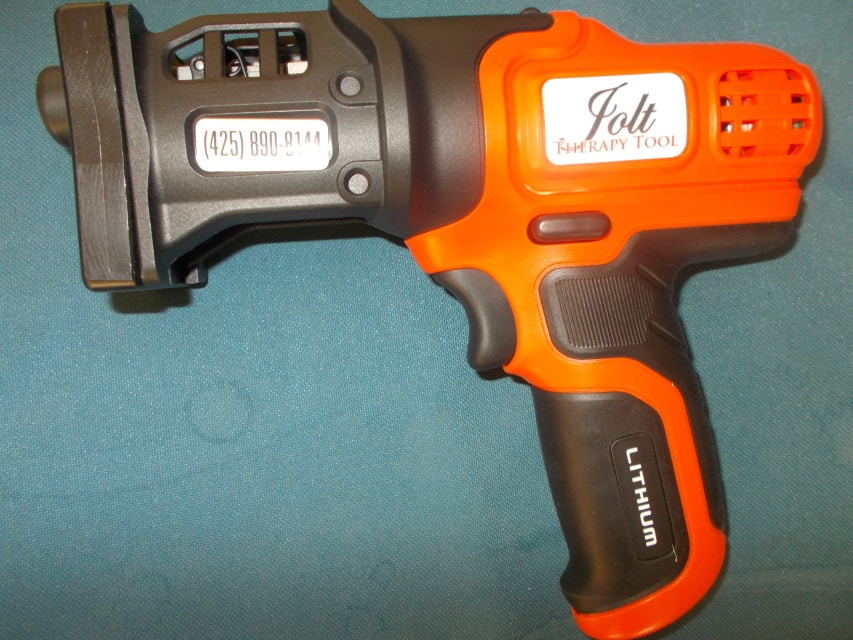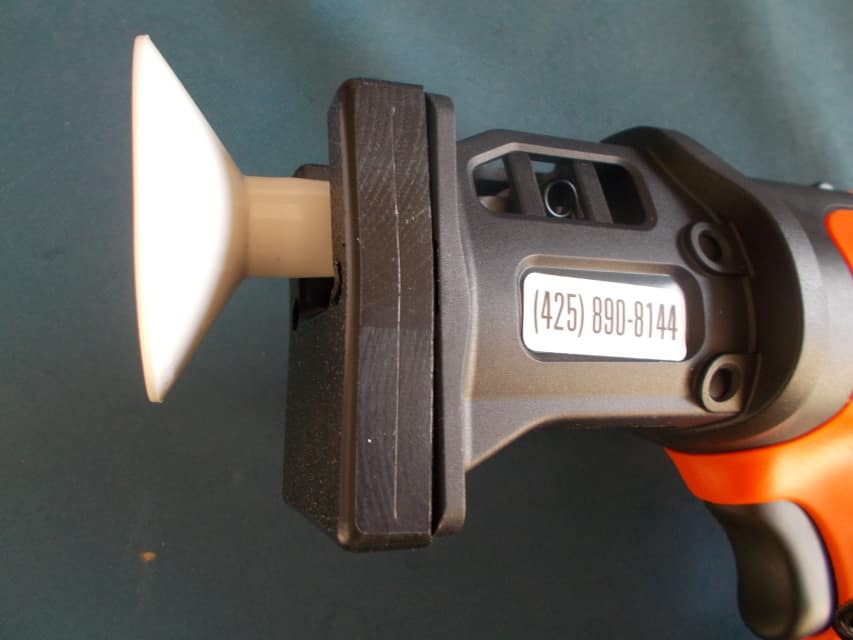 Jolt Therapy Tool-Handheld Personal Muscle Massage Gun, Deep Tissue Massager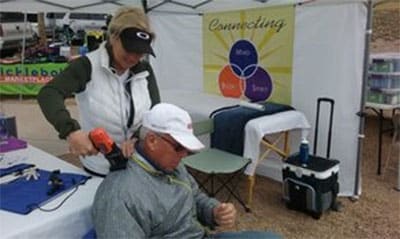 Get to those Tight Muscles in hard to reach places
Have you ever asked your spouse or partner for a shoulder or neck rub and their hands tired easily from trying to work out those tight muscles? If so, the JOLT is the perfect Tool to use to apply Firm and Direct pressure on those areas that really need attention.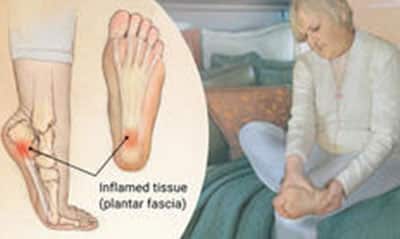 Help Heal Plantar Faciitis
If you suffer from aching feet and joint pain, use the Cup attachment to massage your feet at bed time. The JOLT will help increase circulation to the affected area and assist in the healing process.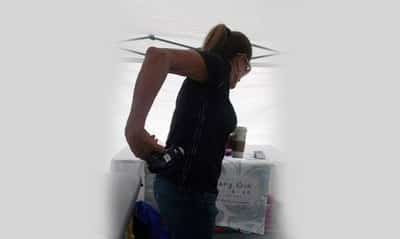 Use it Yourself to loosen Up
The JOLT is light weight, portable and the perfect tool to loosen up tight muscles before and after athletic competitions...and sometimes DURING too! While in AZ at the Senior Games in Pickleball, a player's back seized up and she called a timeout, got out the Jolt and was able to continue play!
Getting Pampered Has Never Felt So Good..
The JOLT allows you to Pamper Yourself AND your Partner! Find which attachment feels best for you, but here are some suggestions:
Use the regular large Tip" or "Pounder"and the smaller "bullet"to focus in on those tight muscles
Use the Cup on elbows, feet and bony areas,
Use the 4 Finger Flex on your back, neck, shoulders and Leg muscles to loosen up multiple tight spots at one time.
The "deep Tissue Brush" with multiple points is great on the bottom of the feet to stimulate those multiple nerve endings.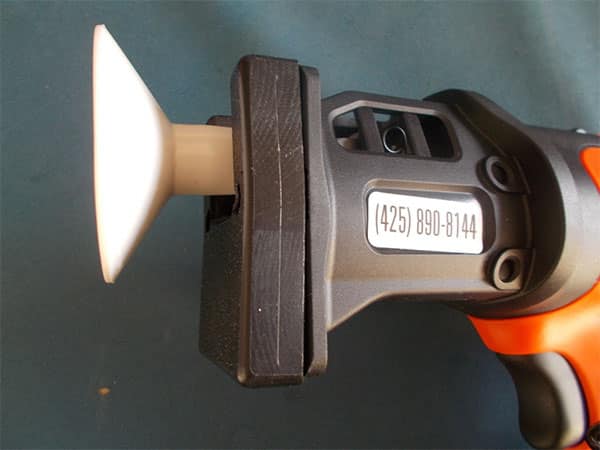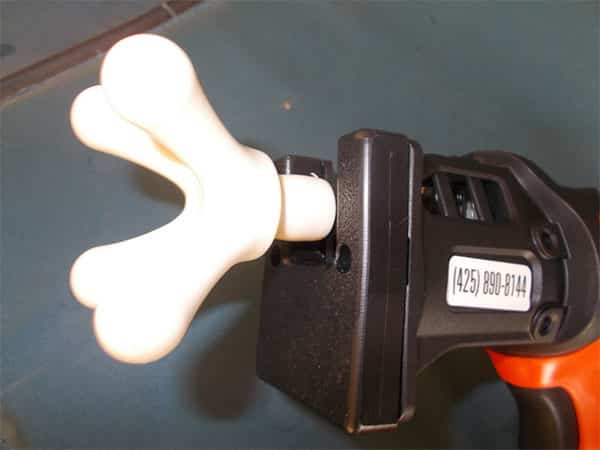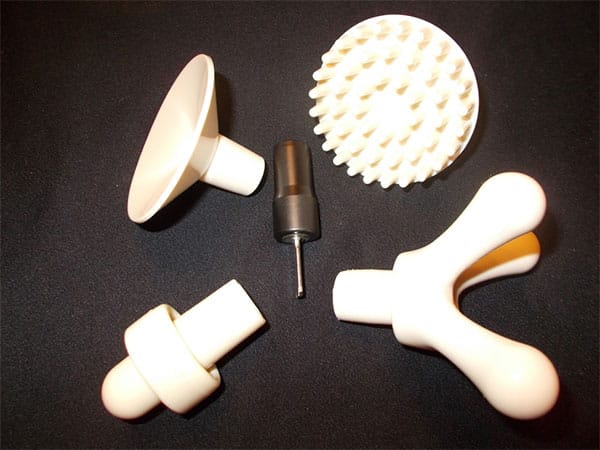 Pickleball Stars Jennifer Lucore, Bonnie Williams & Alex Hamner use the JOLT to "keep them in the game"!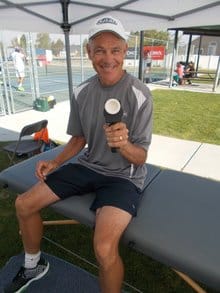 Pickleball Pro Scott Moore uses the Jolt to keep him loose and limber during 5.0 Play!
CLICK ON OUR CONTACT PAGE to see at which events we will be sharing the JOLT in 2020!